Dear CCSEAS members,
The organizing committee for the 2023 CCSEAS conference, to be held in Québec City in the Fall of 2023, is happy to announce the dates for this event: 12-13-14 of October – three full days. Make sure to block these dates in your calendar!
The venue will be in the historical Old Town, in the cradle of Université Laval, founded on these very grounds in 1663 by royal charter of King Louis XIV. The historical buildings overlook the St. Lawrence River and are surrounded in October by a flourish of majestic trees in their Autumn colours. We trust this will be a memorable venue.
We will be within walking distance of plenty of larger as well as boutique hotels, AirBnB rentals, even youth hostels, not to mention a staggering range of restaurants and bars. Do plan ahead! Fall is also the cruise ship season, fun to watch the ships, but this contributes to filling up accommodation throughout the picturesque Old Town.
The conference scientific committee will be circulating the Call for Papers in January 2023.
We are looking forward to seeing you in Québec City!
Jean Michaud, president, for the organizing committee
---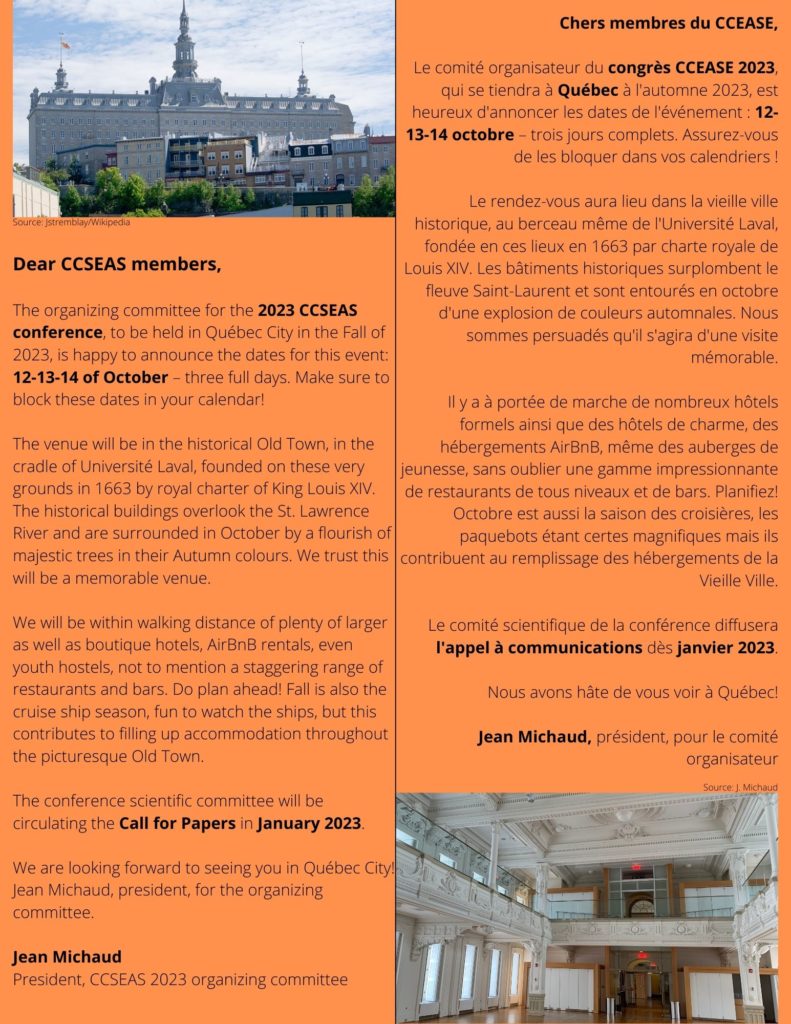 Chers membres du CCEASE,
Le comité organisateur du congrès CCEASE 2023, qui se tiendra à Québec à l'automne 2023, est heureux d'annoncer les dates de l'événement : 12-13-14 octobre – trois jours complets. Assurez-vous de les bloquer dans vos calendriers !
Le rendez-vous aura lieu dans la vieille ville historique, au berceau même de l'Université Laval, fondée en ces lieux en 1663 par charte royale de Louis XIV. Les bâtiments historiques surplombent le fleuve Saint-Laurent et sont entourés en octobre d'une explosion de couleurs automnales. Nous sommes persuadés qu'il s'agira d'une visite mémorable.
Il y a à portée de marche de nombreux hôtels formels ainsi que des hôtels de charme, des hébergements AirBnB, même des auberges de jeunesse, sans oublier une gamme impressionnante de restaurants de tous niveaux et de bars. Planifiez! Octobre est aussi la saison des croisières, les paquebots étant certes magnifiques mais ils contribuent au remplissage des hébergements de la Vieille Ville.
Le comité scientifique de la conférence diffusera l'appel à communications dès janvier 2023.
Nous avons hâte de vous voir à Québec!
Jean Michaud, président, pour le comité organisateur